无锡小笼
无锡小笼包又称小笼馒头,是江苏省无锡市的一道传统名菜,选用上等面粉制作、选料精细、南方口味。具有夹起不破皮,翻身不漏底,一吮满口卤,味鲜不油腻等特色。
Wuxi Xiaolongbao, also known as Xiaolong Mantou, is a famous traditional dish in Wuxi City, Jiangsu Province.
It is made with the most refined flour, finely selected materials, and has a southern taste. It has the characteristics of not breaking the skin when being picked up, turning over without leaking the bottom, a mouthful of fresh fragrance, and the taste is not greasy.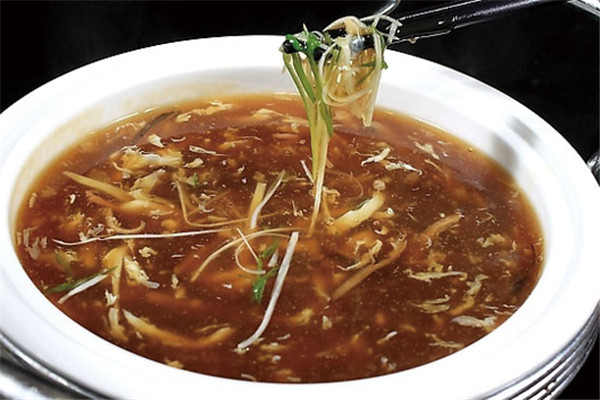 酸辣汤
酸、辣、咸、鲜、香共同组成的酸辣汤用肉丝、豆腐、冬笋、醋等料经清汤煮制而成。饭后饮用,有醒酒去腻,助消化的作用。一碗汤便能轻易勾起人的味蕾。
Hot and sour soup
The hot and sour soup, composed of sour, spicy, salty, fresh, and fragrant, is made by boiling in clear soup with shredded pork, tofu, winter bamboo shoots, and vinegar. Drinking after a meal can sober up alcohol to remove greasiness and help digestion. A bowl of soup can easily arouse people's taste buds.
生煎
煎包外皮底部煎得金黄色,配有点缀的芝麻、香葱。皮酥、汁浓、肉香、精巧。轻咬一口,肉香、油香、葱香、芝麻香全部的美味在口中久久不散。
Pan Fried Dumpling
The bottom of the fried bun is golden brown and is decorated with sesame seeds and chives. The skin is crispy, the juice is thick, the meat is fragrant, and the delicate. With a light bite, all the delicious flavors of meat, oil, green onion, and sesame will stay in your mouth for a long time.
花雕醉鸡
醉鸡是江浙地区的传统名菜。酒香浓浓,浸着滑嫩的鸡肉,人和鸡都醉了,又被花椒的香麻唤醒。它以绍兴酒作为基本调料,不但能去腥、解腻、添香、发色、增鲜,而且还具备了容易消化吸收的特点。因此,醉鸡成了独具风味的江浙名菜。
Drunken chicken is a traditional dish in Jiangsu and Zhejiang. The wine is fragrant, and the tender chicken is soaked. Both the chicken and the chicken are drunk, and the fragrant hemp of the pepper awakens them. It uses Shaoxing wine as the primary seasoning, which can remove fishy, relieve greasy, add aroma, color, and increase freshness, and have the characteristics of easy digestion and absorption. Therefore, Drunken Chicken has become a famous Jiangsu and Zhejiang dish with a unique flavor.
阳春面
阳春面又称光面,汤清味鲜,清淡爽口。上好的高汤配有各式物件的精华,透出一份清香,一份醇鲜;透着一份矜持的怀旧,一份自赏的孤芳.
Yang Chun Noodles (spring noodles)
Yangchun noodles are also called smooth noodles. The soup is clear and delicious, light and refreshing. The excellent broth is equipped with the essence of various objects, revealing a delicate fragrance, a mellow fragrance, a reserved nostalgia, a lonely fragrance for self-appreciation.
EXPLORE OUR OUTLETS
CALLING US FOR YOUR RESEARCATION.